Dumfries archive centre options outlined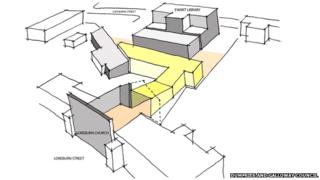 Three potential funding options - costing up to £6.2m - have been outlined for a new archive and local studies centre located in Dumfries.
A site at the Ewart Library was selected as the preferred option for the facility earlier this year.
It will be used to house a vast collection of historic documents currently held by Dumfries and Galloway Council in various locations.
Councillors will decide their preferred funding proposal next week.
The project is designed to safeguard the documents - some of which date back as far as 1452 - while also improving public access to the archives.
The council said the development of the centre would also contribute to local regeneration and cultural tourism.
Preferred model
Three funding options have now been tabled.
The cheapest is £4.3m and is based on a ground-floor complex separate from the Ewart Library building.
Both the other options - costing £5m and £6.2m respectively - would involve two-storey constructions and would be directly linked to the library.
All three financial models require a combination of Heritage Lottery Fund and council funding, and include annual running costs of £250,000.
The project options are detailed in a report to the community and customer services committee which is being asked to agree a preferred financial model when it meets on Tuesday.