Council responds to public concerns over Burns statue square works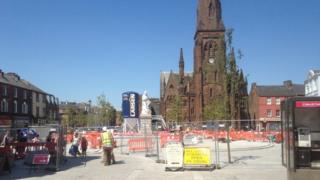 Dumfries and Galloway Council has responded to public concerns raised over a £1m upgrade around a historic statue of Robert Burns.
BBC Scotland news website readers brought up a string of issues over the works in Dumfries.
However, a spokesman for the local authority dismissed some of them and said others were being addressed.
A council report has highlighted flaws in the management of the project but also emphasised its positive impact.
Members of the public raised a number of questions about the work.
'Good access'
They included the narrowness of the bus lane, disabled access during construction and the stonework already being discoloured by fuel spills.
A council spokesman said: "The carriageway is wide enough for the buses to get round safely and was designed to improve pedestrian access.
"Cars and other vehicles should not be parked in that area."
He added that the contractor had also "worked hard" to ensure "good access was available at all times".
"The bus operators have been made aware of the diesel spillages and the area will be maintained as part of the town centre cleaning programme," he added.