Dumfries plans for Scottish children's literature centre submitted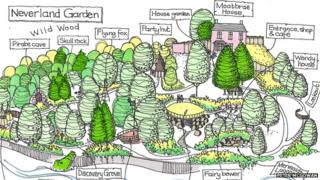 A planning application has been lodged to create Scotland's first centre for children's literature at a house which helped inspire the Peter Pan story.
Permission is being sought to build two new extensions and create a "discovery garden" at Moat Brae House in Dumfries.
The Peter Pan Moat Brae Trust (PPMBT) recently secured nearly £700,000 from Creative Scotland for the project.
Planning officials have advised approval of the scheme but with a number of conditions attached.
As a child, author JM Barrie played in the house and its grounds on the banks of the River Nith.
He later credited them as being the inspiration for his famed story of the boy who never grew up.
The trust saved the historic building from demolition in 2009.
Since then, the property, which dates back to 1823, has undergone significant repair and restoration.
Now the trust is seeking approval for plans to transform the house into a national centre for children's literature and storytelling.
The £4m project involves building two new extensions and the formation of a discovery garden.
The scheme requires both planning and listed building consent.
The council's planning department and Historic Scotland say they are comfortable with the designs.
However, the plans have drawn more than 30 objections including one from Loreburn Community Council.
The key concern is the modern style of the proposed extensions which, it is claimed is inappropriate, out of keeping with the history of the property and damaging to the character of the building.
Planning councillors, who will consider the application next week, are being recommended to approve the proposals subject to conditions.