Burns statue square work: Your views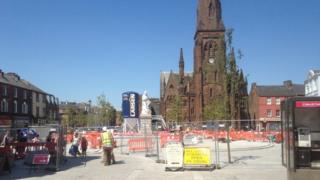 It was pretty much the talk of the town for most of the summer.
When, if ever, would the £1m upgrade to the area around Burns statue in Dumfries finally be complete?
It was supposed to be finished in time for the traditional Guid Nychburris celebrations in June but ended up missing that deadline by more than three months.
A council report has revealed a series of flaws in the management of the project, but also highlights the positive impact of the facelift.
BBC Scotland news website readers have contacted us with their views of the work carried out.
---
Jim Hill
Although it is nice to see work being done in Dumfries I think the council are missing the point of what is needed in this town, we have far too many empty shops.
We need drastic investment to get people back into the High Street and not spending millions upon millions for a hair brain flood prevention plan that has no chance of working and is going to do away with badly needed parking spaces.
Get a grip council - make Dumfries have pride again in this town.
---
Anonymous
All that money and it's still too narrow for the buses to turn into comfortably.
---
Alastair Moir
I had to make a complaint during this work as the access to this area for me as a wheelchair-user has been significantly reduced. In addition the surface turns into a skating rink in wet and frosty weather.
In one of the replies to my emails I was told that the design was sound and all access issues taken care of. The pavement in front of Greyfriars Church was not made wheelchair accessible due to wheelchair users not being competent to negotiate crossing roads carrying vehicle traffic.
To me this is typical of the response common to issues of disability access to both the built environment and transport services within Dumfries and Galloway.
I would be interested to hear what others think.
---
Kenny Roddick
The groundwork is getting discoloured by petrol, diesel and oil stains which makes it look terrible in a very short period of time.
This was supposed to be an area for visitors to come and see and take photographs because of the history of Robert Burns. It is a disgrace and a complete waste of money.
---
Ronnie Graham
I live and work in Dumfries and after speaking to many business owners can tell you that absolutely nothing has been gained from this costly renovation.
Cafes and pubs in the area have all reported a downturn in trade during the work and after people stop using these places they are very difficult to win back.
As regards the work itself, I believe the company used was from outwith Dumfries and Galloway and the stone used was from China. Not really work that will benefit local companies.
Why was Locharbriggs red sandstone not used from a quarry only a few miles away? After all this is the stone that was transported to America to make the base for the Statue of Liberty as well as the Queen Alexandra Bridge in Sunderland and the Manchester International Convention Centre.
An opportunity missed to further advertise this fine red sandstone and give employment to the struggling builders of Dumfriesshire.
---
Matt Currie, via Twitter
There should have been a penalty clause in the contract it's not as if it was a week or two late ... 13 weeks.