Burns statue square work review reveals management flaws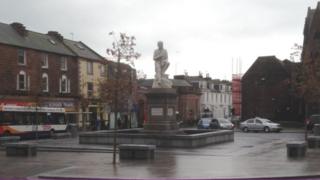 A review of a £1m upgrade to the area around the historic Burns statue in Dumfries has revealed a series of flaws in the management of the project.
The scheme missed its original deadline by more than three months.
However, the report also highlights the positive impact of the facelift.
It is claimed it has transformed a strategically important part of the town centre. The findings are to go before Dumfries and Galloway Council's scrutiny committee.
Work on the Burns statue improvement programme was initially expected to take 16 weeks to complete.
It was eventually completed on 9 September - 13 weeks behind schedule.
The original timescale was designed to deliver the upgrade with the least disruption to businesses, residents and major events.
Uncharted drains
However, according to a review by council officials involved in the project, the deadline of 6 June was, in hindsight, overly optimistic.
Some hold-ups were linked to issues which only emerged once construction had begun, such as uncharted drains.
But it is also claimed the contractor underestimated the time and resources required to meet the original deadline.
Officials said the project development process was not adequately robust and communication was not pro-active enough when problems were encountered.
On the plus side, the authority says the project was delivered on budget and the finished work is of high standard and has transformed the strategically important northern end of Dumfries High Street.
What do you think of the upgrade works at Burns statue square in Dumfries? Let us know your thoughts at dumfries@bbc.co.uk.