Borders and Lothians winter road checks get under way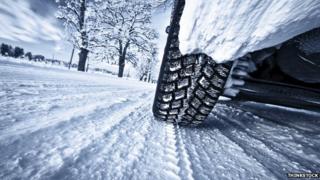 Police have started a week of high-profile checks across the Lothians and Borders to ensure vehicles are roadworthy for the winter.
The campaign aims to assist drivers as conditions become "more challenging and potentially hazardous", particularly on country roads.
Tyres and lights will be checked to ensure they meet legal requirements.
Insp Richard Latto said drivers faced "additional challenges" due to "changing weather conditions".
'Breakdown risk'
"It is crucial vehicles are mechanically sound and that drivers plan ahead to allow additional time for any journeys," he said.
"Education will play a key part of this year's campaign.
"I would also recommend that if anybody has any doubts about the ability of their car to cope with the demands of winter months, or indeed if tyres may need changed, they get it checked at a local garage.
"Such preventative vehicle maintenance means your vehicle is safer and significantly reduces the risk of it breaking down."