Dumfries and Galloway school attainment at '10-year high'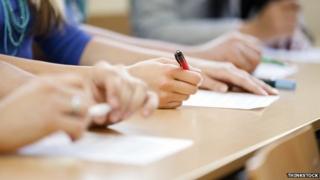 The education committee chairman in Dumfries and Galloway has welcomed figures showing a 10-year high in some key attainment indicators.
The department says the region is also in the top third in Scotland for delivering consistent improvements.
However, numeracy skills in primaries remain a problem area with maths attainment below the national average.
Committee chairman Jeff Leaver said an improvement strategy had been put in place which was producing results.
A report to councillors showed that the number of S5 pupils achieving at least five Highers was at the highest level for a decade.
Other indicators were also at a 10-year high.
"I think the education service is doing a very good job and that's a testament to the pupils, to the staff and to the management within the service," Mr Leaver said.
"We are at a 10-year high in a lot of these instances and as the audit report said we are in the top third of education authorities in the country.
"We should be very proud of that, as should the pupils and the staff."
He accepted that there were areas which needed to be worked on.
"We recognised some years ago that we weren't doing as well we should have been doing in primary school mental mathematics," he said.
"So new systems were put in place.
"These are children we are talking about, not widgets, it takes a while for things to get embedded and for the improvements to be seen.
"That is what we are beginning to see at the moment and hopefully we will see more improvements in the future."