Battle of Flodden: Final archaeological dig of year begins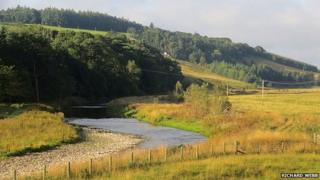 The final archaeological dig this year by the Flodden 1513 project will start near Duns this weekend.
The site, at Ellemford, is thought to have been a mustering point for the ill-fated Scottish army prior to the Battle of Flodden.
Geophysics surveys have already been carried out in fields near the bridge at Ellemford.
The site will be under investigation in the latest survey from Saturday until 14 October.
It was a traditional crossing point of the Whiteadder Water.
Studies have already found a number of anomalies which, it is hoped, the archaeological dig will investigate.
'Army mustered'
Archaeologist Chris Burgess will oversee the work in the area.
"We have really no idea of what to expect on this site," he said.
"It is supposedly the site where the Scots army mustered before invading England in 1513.
"But it has been used as a fairground before then and ever since."
He said it was one of those sites which could be "everything or it could be nothing".
Events were held last year on both sides of the England-Scotland border to mark the 500th anniversary of the battle between the English and Scots at Branxton, Northumberland, on 9 September 1513.
There were an estimated 10,000 Scottish deaths in the battle, including that of King James IV and members of almost every noble family. About 4,000 English soldiers also lost their lives.
Excavation work has been carried out to find the remains of thousands of bodies buried on the Flodden battlefield in the hope the findings can be used to declare the burials as war graves.