Dumfries Peter Pan house secures Creative Scotland boost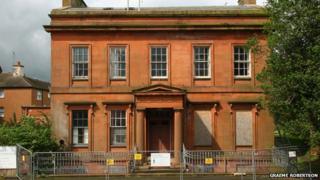 Funding has been secured for plans to create Scotland's first centre for children's literature at a house which helped to inspire the Peter Pan story.
Creative Scotland will give £687,500 towards the project at Moat Brae House in Dumfries.
It has also awarded £400,000 towards the upgrade and restoration of one of the UK's oldest cinemas in Campbeltown.
A further award of more than £250,000 goes to the Ness River Public Art Programme in Inverness.
Philip Deverell, director of strategy at Creative Scotland, said: "The cultural infrastructure of Scotland will be boosted by these ambitious and inspiring projects which have been a number of years in fruition.
"Each is unique to their location, drawing on a range of inspirations whether historical, from the landscape or from the local community.
"Each will help to ensure that artists and audiences, across Scotland, can continue to present, access and enjoy a range of artistic and creative experiences."
The Peter Pan Moat Brae Trust (PPMBT) will use the funds to help create Scotland's first centre for Children's Literature and Storytelling.
The project is inspired by JM Barrie and his world famous character Peter Pan.
Barrie spent five years at school at Dumfries Academy as a teenager and Moat Brae house and gardens were acknowledged by him as being "the genesis" for his classic tale.
The award will enable the trust to restore the house and the garden will be "re-invented" as JM Barrie's Neverland.
Project director Cathy Agnew said: "To have news of this level of arts investment into Dumfries at the start of our capital campaign, is fantastic.
"It is a great vote of confidence in the quality of our plans and designs to celebrate the birthplace of Peter Pan."
The funds to Campbeltown Community Business (CCB) will see the town's cinema - which first opened in 1913 - restored and a second screen and modern café and foyer area will be created.
Jane Mayo, who chairs the CCB, said: "The redeveloped picture house will provide the local community and visitors with a magnificent historic cinema equipped to modern standards and complemented by new facilities.
"The programme of films and live relays of international quality cultural performances, together with activities based on the heritage of the building and the evolution of cinema, will allow The Picture House truly to become Kintyre's cultural and entertainment hub.
"The reopened cinema will provide employment and play an important part in the promotion of Kintyre as a unique visitor destination."
The final funding award goes to Highland Council for its River Connections project.
Four artists have been commissioned to create new public art pieces as part of the area's Ness River Public Art Programme.
Councillor Ken Gowans, who chairs the authority's ICArts working group, said: "This is a great opportunity for the city of Inverness and the Highlands to establish permanent high quality public art as an integral part of the major flood alleviation scheme for the city currently underway and which will enhance everyone's connections with the River Ness."