Biker clocked doing 140mph during police crackdown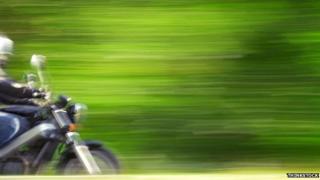 A motorcylist was recorded riding at more than than 140mph on a 60mph limit road during a police operation.
The rider was reported to prosecutors after the incident last week on the A76 in Dumfries and Galloway.
Operation Zenith took place nationwide between April and September and was aimed at improving motorbike rider behaviour to help cut road casualties.
Insp Neil Hewitson said Dumfries and Galloway was a popular area for bikers from inside and outside the region.
'Practical advice'
He said much of the operation had been based on promoting "safe and responsible motorcycling" as well as enforcement action.
"As part of the operation we held a very successful open day for motorcyclists at Lockerbie police office where we were able to engage and interact with riders about all aspects of motorcycling safety," he added.
"The day was well attended and officers were able to give out sound, practical advice and tips on safe motorcycling, as well as carry out an actual assessment of a test ride for those who volunteered to take it."