Walkers winched to safety from Harts Fell after path gives way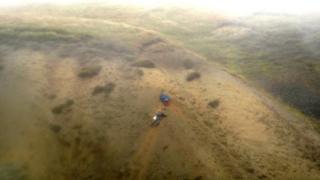 Two walkers have been winched to safety from a ridge in Dumfries and Galloway after a path gave way beneath them.
One man was left clinging to a shepherd's crook held by his companion for 45 minutes on Harts Fell near Moffat.
A Royal Navy helicopter from Prestwick rescued the men shortly before midday on Sunday.
They were taken to a nearby farm. Both men were unhurt but said to be "very shaken" by their ordeal.
The men had been walking a well-trodden path when it disintegrated below their feet.
One man slipped down a precipitous incline but managed to hold onto a shepherd's crook held by his walking partner who was sitting at the top of the slope.
The alarm was raised at 11:05, and a Sea King helicopter, which had been on a training flight, was on the scene at 11:50.
Lt Cmdr Jon Green said the crew were forced to "reverse" the aircraft into a position as close as they dared to the two walkers.
He said: "We had to get as near to them as we could, so that we could safely winch our air crewman down.
"But, because we knew that they were not only on unstable ground, but that one of them was holding the other by his crook, we had to keep the hover as high as possible to avoid dislodging either the people or the scree with the downwash from the helicopter."
The helicopter hovered 100ft above the walkers while Chief Petty Officer Shaun 'Boogie' Knights was lowered down.
"Boogie went down on the wire and managed to quickly secure a strop around the lower of the two men, before recovering him to the aircraft. The same procedure was repeated for his walking partner," he added.
Both walkers were experienced and well-equipped.