Temporary swimming facility for Dumfries nears completion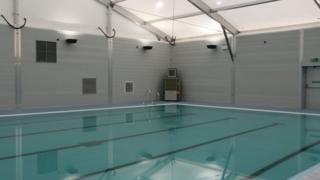 Work on a temporary swimming pool built in an ice rink car park in Dumfries is nearing completion.
DGOne@IceBowl will provide swimming facilities while the town's main leisure complex is closed for 17 months for a major refurbishment.
The 25m pool beside the Dumfries Ice Bowl is 1.2m deep, has five swimming lanes and can accommodate up to 80 people.
The facility is due to open its doors on Monday 6 October.
Dumfries and Galloway Council leader Ronnie Nicholson said it had the feel of a "state of the art swimming area".
"The pool is a good size, there are super changing areas available, particularly accessible for families due to the communal nature of them," he said.
"The facility will allow current customers of DG One to keep up their swimming activity, be it a family swim on a weekend to competitive club swimming every day."
The temporary swimming facility was initially denied planning permission because of traffic concerns but an amended application was approved in June.
Users can park in the Queen of the South Arena car park and walk through a refurbished walkway to the pool.
Chairman of the community and customer services committee, Councillor Tom McAughtrie said: "There is a remarkable amount of space inside the building, considering it hosts a 25 metre pool, two changing villages and showering areas, as well as a reception and toilets.
"The layout is fantastic and I believe the council's decision to put in place a facility such as this will be fully vindicated.
"I would encourage everyone to come in for a swim from 6 October and see for themselves the quality of facility the people of Dumfries and Galloway have here."