Dumfries and Galloway flood plans considered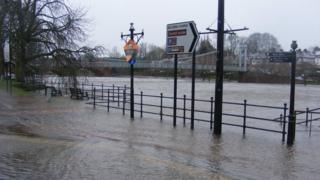 Councillors in Wigtownshire and Nithsdale are set to consider a series of flood prevention measures drawn up for areas identified as being at risk.
Dumfries and Galloway Council is seeking provisional agreement on the proposals before further consultation.
A total of 23 potentially vulnerable areas have been identified across the region as part of a flood risk management plan.
A shortlist of measures has been drawn up to tackle the threat in each zone.
It follows a review of historical data to determine the likelihood of flooding and the scale of the impact.
Members of both the Nithsdale and Wigtown area committees will study the proposed strategy at their respective meetings on Wednesday.
In the west, the threat to properties in Newton Stewart and Creetown is highlighted, along with coastal communities, including Stranraer, Portpatrick, the Isle of Whithorn and Garlieston.
In Nithsdale, the emphasis is on reducing the risk to riverside properties in Dumfries - notably the Whitesands - as well as the upper reaches of the Nith - taking in Kirkconnel and surrounding area - which was hit by serious flooding in December last year.
The proposals also include the need to reduce the impact of coastal flooding at Carsethorn and Southerness.