Dumfries hospital developers make 150 jobs pledge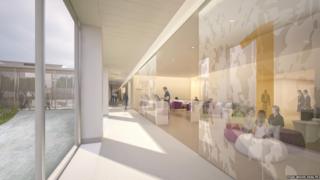 Developers working on the construction of a new £200m hospital in Dumfries have promised to create 150 new jobs for the area.
The commitment was part of the final tender from High Wood Health, a consortium including Laing O'Rourke, which has been named preferred bidder.
The new jobs include more than 30 apprenticeships.
Design images for the new hospital are also being revealed at an event to mark the official project launch.
High Wood Health was named preferred bidder earlier this month, seeing off remaining rival Balfour Beatty to secure the status.
NHS Dumfries and Galloway said the hospital would be a "modern, fit-for-purpose facility set to benefit patients and staff".
It added that the 350-bed complex had the potential to deliver a "significant and unique contribution to the economic regeneration of the region".
NHS Dumfries and Galloway Chief Executive Jeff Ace said he and his colleagues were delighted to be working with High Wood Health.
"They fully understand our ambition to be able to provide the best care possible for patients and an excellent working environment for our staff," he said.
"High Wood Health have taken our reference design and produced a design for a fantastic new facility which will be built within exceptional surroundings.
"The design complements our plan for a new model of care both in terms of how our staff will work together in the new hospital, and with our staff across the region."
Project Director Dennis O'Keeffe also praised the High Wood Health bid.
"Their proposed solution is one that brings to bear a consortium of outstanding designers and contractors with considerable expertise, innovation and resources to fulfil our expectations," he said.
High Wood Health's Bid Director, David Hunter, said: "We have been working closely with NHS Dumfries and Galloway and their clinical experts throughout the bid process to understand and respond to the needs of their staff and the community.
"We believe the proposed design will deliver a world class health facility for the people of Dumfries and Galloway, and we're looking forward to developing this further as we work towards financial close in early 2015."
High Wood Health is a consortium with Laing O'Rourke as construction partner and Serco providing its estate management services.
It is hoped construction work on the hospital can begin in 2015 with the opening scheduled for spring 2018.