Thieves swipe Rob Roy's sporran from Abbotsford House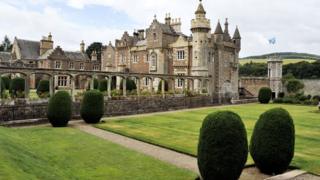 A sporran which belonged to Scots folk hero Rob Roy has been stolen from the historic home of Sir Walter Scott.
It was part of a collection of historical artefacts collected by Scott and displayed at the newly-refurbished Abbotsford House near Melrose.
Scott - who wrote a famous novel about Rob Roy - also had his gun, sword and dirk in his collection.
A statement from Police Scotland said the theft took place some time between Sunday and Tuesday.
"With regret, we can confirm that an object associated with Rob Roy has been stolen from Sir Walter Scott's armour at Abbotsford," said a statement from the Abbotsford Trust.
"The theft was reported to the police on its discovery, and we will make every effort to support Police Scotland with their enquiries.
"We believe the theft took place on the morning of Sunday 21 September, and the sporran appears to have been forcibly ripped from the wall."
It is one of a number of items at Abbotsford House relating to Rob Roy, and has been described as a "precious piece of folk history".
"It is vital that we recover this important artefact and preserve the integrity of Scott's collection for future generations and so we urge the public to and come forward with any information that might help us recover it," said the trust.
"This is a unique object so very difficult to put an exact commercial value on, however it has much historic significance and is a very important part of the collections here at Abbotsford and so greatly valued by us."
Rob Roy was a famous Scottish folk hero and outlaw of the early 18th Century.
Sir Walter Scott published a historical novel telling the story of his life in 1817.