Galashiels post office robber description issued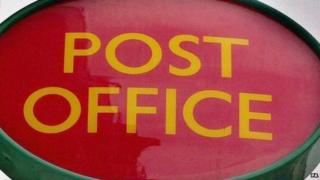 Police have issued a description of a robber who took cash and injured a worker at a Borders post office.
The incident took place at the Gala Park Post Office on Balmoral Place in Galashiels at about 14:25 on Tuesday.
The man is described as white, 5ft 6in to 5ft 8in tall, with cropped dark hair, a stocky build and in his 30s.
He was wearing jeans and a dark grey hoody with an animal motif - possibly a dog - embroidered in red thread covering the full front of the hoody.
It was of the pull-on type and did not have a zip to the front, had two pockets and a black drawstring at the collar.
Det Con Gerard Quinn said: "This was a very frightening incident in which a man suffered a minor injury, and it is essential we trace the robber and bring him to justice as soon as possible.
"Anyone with any information about about this robbery, or who recognises the description of the man, is asked to contact Police Scotland on 101, or Crimestoppers on 0800 555 111."