Scottish Borders Council school week changes going 'pretty well'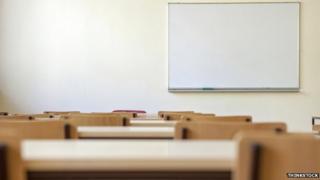 The chairman of Scottish Borders Council's education committee has said the switch to a four-and-a-half-day asymmetric week is going "pretty well".
The move has seen all of the region's primary and secondary schools close at lunchtime on Fridays.
It is aimed at reducing staff costs and bringing timetables into alignment.
Sandy Aitchison said there had been some "glitches" but the council would work to make the system "better for everybody".
The change was approved earlier this year by 21 votes to eight with one abstention.
The new timetable sees schools start earlier and finish later from Monday to Thursday in order to allow the early finish on Friday.
The asymmetric week is reckoned to increase opportunities for e-learning and shared teaching.
Mr Aitchison said he believed the overall picture in the first weeks of its operation was a positive one.
"It would be wrong to say that everything is in place and working 100%," he admitted.
However, he said they were of aware of just two "little glitches" in hundreds of school transport runs across the region.
Mr Aitchison added that he understood some parents would still be having difficulties with childcare on Friday afternoons and the changes in timetable.
He also recognised that some teachers were working additional hours during the week in order to also finish early on Fridays.
"I am quite pleased with where we are just now," he said.
"What we need to do now is look at the negatives and try and see how we can assuage them and make it better for everybody."