Dumfries and Galloway eyesore property crackdown planned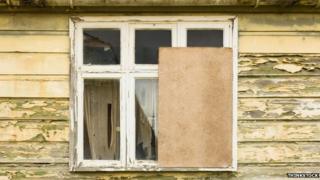 Dumfries and Galloway Council is considering targeting buildings in a serious state of disrepair to work with owners to carry out improvements.
The proposals will go before the local authority next week.
If agreed the council would look to create a "single point of contact" to deal with the "complex and time consuming" issue.
Councillors will also have to decide on whether to allocate dedicated staff to handle the problem.
The authority believes the moves could help build "more effective relationships with property and land owners" and in turn help to bring derelict buildings back into use.
Councillor Colin Smyth, who chairs the economy and environment and infrastructure committee, said: "There is a real desire from councillors for a more proactive approach to dealing with the derelict properties that too often plague our communities.
"We need to get much tougher with the owners of derelict property, as the primary responsibility for the condition of these buildings rests with them.
"This new approach will mean a new mechanism for dealing with problem owners which includes using the full force of the law when required."