Worker hurt in Galashiels post office robbery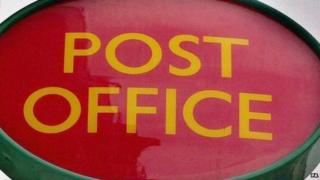 A post office worker has been hurt and money taken during a robbery at a post office in the Scottish Borders.
The incident took place at the Gala Park Post Office on Balmoral Place in Galashiels at about 14:25.
A spokesman for Police Scotland said: "A member of staff sustained a minor injury during the incident and a sum of money was stolen."
He added that inquiries were ongoing and appealed for anyone with information to contact them.
The post office was sealed off following the incident with three police vehicles on hand as well as an ambulance.
Police officers conducted a search of the Gala Policies - a large wooded area in the Balmoral part of Galashiels - shortly after the robbery.