Drivers in Borders and Lothians warned over school speeds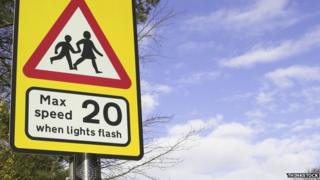 Police have warned more than 70 drivers about their speed and dangerous parking outside schools in the Lothians and Scottish Borders.
They have been carrying out speed checks outside 20 primaries across the area since they reopened after the summer holidays.
Police urged motorist in the area to "slow down and park considerately".
They said further speed checks would take place as the school term progressed.
Insp Richard Latto said: "These proactive checks were carried out when children were walking to and from school.
"By providing a visible presence we hope to remind drivers of the increased dangers which exist when travelling close to school routes used by children.
"Further speed checks are planned during the coming school term."