Borders to Edinburgh railway: Galashiels property price impact assessed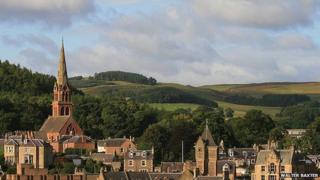 A housing expert has said the Borders railway has had "no dramatic or even discernible" impact as yet on property values in Galashiels.
The town is the site of one of seven new stations on the Borders to Edinburgh line due to open next year.
Richard Clowes, director of chartered surveyors DM Hall's Galashiels office, said local opinion was "strongly in favour" of the link.
He said that had "not translated into a general uplift in prices".
The Borders railway is due to open in September next year with three of the new stations in the Borders, including a transport "hub" in Galashiels.
In a blog on DM Hall's website, Mr Clowes said it was not having a big impact on property prices in the area at present.
"The significant interest in the area when the project was announced in 2004 appears to have developed into a wait-and-see approach," he said.
"The likelihood of price increases seems to have been postponed until the line and the stations are actually up and running."
'Faring better'
He added that where the rail line had had an effect was on seller expectations.
"Recent prospective sellers in the railways 'catchment area' have been disappointed that their properties have not appreciated as much as they anticipated and in many cases they are selling at, or below, home report valuation," he said.
"Having said that, the market in the Borders is faring much better than last year."
He said that while there was no evidence of "marked growth" in values there was still "healthy activity" in most towns.