Family of Manchester diver missing off St Abbs 'devastated'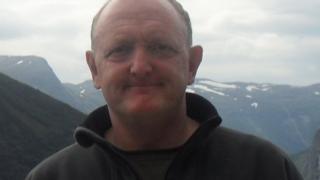 Police have named a 49-year-old Manchester man who went missing while diving off the coast of the Scottish Borders at the weekend.
A major search started on Sunday at about 11:00 but failed to find Paul Brown in the waters off St Abbs.
Helicopters and lifeboats were involved over a number of days but the operation has now been scaled down.
A statement from his family said they were "devastated at the situation" and were in a "state of shock".
"Paul has been a loving husband and father to his two teenage daughters and was participating in his favourite pastime at the time of his disappearance," it said.
"Paul was an experienced diver and was a frequent visitor to Scotland in pursuit of his long term hobby which has given him so much enjoyment over the years."
Officers responded to a call shortly after 11:00 on Sunday in which it was reported that a man participating in a recreational dive had disappeared.
A multi-agency search involving a helicopter and lifeboats was carried out, but Mr Brown could not be found.
Police carried out searches of the sea-bed and along the coastline, but the search has now been scaled down.