Medieval Hawick missal music inspires Goldie collaboration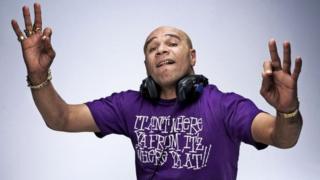 A piece of medieval religious music from the Scottish Borders has inspired a collaboration between a DJ and Oxford University academic.
The Hawick Missal Fragment was discovered in 2009.
It has been the catalyst for a number of new compositions - the latest involving Dr Matthew Cheung Salisbury and the electronic artist Goldie.
The piece, described as a "fusion of modern and classical" will be performed in Glasgow on Saturday.
The missal fragment was discovered five years ago in an uncatalogued collection of family and solicitors' papers by Rachel Hosker and her staff at the Heritage Hub in Hawick.
It has since inspired a range of new pieces of music which have been performed in Jedburgh Abbey, Kelso Abbey, and Melrose Abbey.
The latest collaboration uses "sampling and electronic manipulation of sound in addition to medieval chant and a cello".
"Working with Goldie has been a fascinating process," said Dr Salisbury.
"When I played him the classical recordings of the medieval music, he immediately began to get a feel for individual motifs and strands of melody that he then knit together to form a song.
"It is surely a first for a DJ to sequence and mash-up medieval music!"
'More universal'
Dr Salisbury also said that working with Goldie had taught him something new about medieval music.
He explained: "Medieval music is thought of as something that is very foreign and incapable of being understood.
"But seeing Goldie and three other composers use the medieval melodies as source material for a fresh piece of music shows how the modern ear receives medieval music and that it is more universal than it is given credit for."
In addition to Goldie's composition, Michael Nyman, Grayston Ives and Sean Doherty have also composed new works of music inspired by the fragment.
The latest work will be performed for the first time on 30 August at Glasgow Cathedral in a performance made possible by Historic Scotland.