Dumfries River Nith flood barrier row breaks out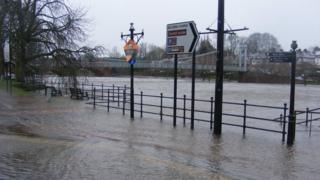 A row has broken out over plans for a multi-million pound flood defence scheme on the Whitesands in Dumfries.
The proposals - which are now in the final consultation stage - include the construction of a landscaped wall along the River Nith.
Some residents claim this will have a detrimental effect on one of the town's main beauty spots.
However, Dumfries and Galloway Council maintains that the barrier is the best solution available.
Among those raising concerns about the scheme has been Loreburn community council vice-chairman Rev Andrew Crosbie.
"It is basically 3.4m high at its highest point - that is twice the height of the average person," he said.
"So the river will be obscured for all time.
"We just want to be absolutely certain that all other proper solutions to this have been investigated and costed."
He said he wanted to be sure that the common good land being used - which belongs to the town - was being used to the benefit of residents.
"There is anxiety about the height of this barrier in relation to the town," he said.
"Dumfries will never be the same again if this barrier is built."
The local authority said that other options - including dredging the river - would simply not work.
'Hydraulic modelling'
"It has been said that if we removed the gravel build-up in the river that would reduce the flooding," said councillor Colin Smyth.
"The hydraulic modelling that has taken place reveals that if we had a one in 200 year flood - which is a major flood - the effect by dredging the river would simply reduce that by about half a centimetre," he said.
He said that would be of "no real consolation" to people finding themselves up to their waists in water in properties on the Whitesands.
Mr Smyth also said proposals to allow flooding further upstream would do nothing to alleviate problems in the town.
"The council has looked at these alternatives and we are clear that they won't work," he said.