Solway Firth cockle study cut short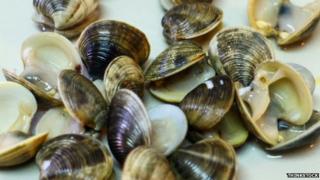 A study which could have paved the way for the reopening of cockle beds in the Solway Firth has been forced to finish ahead of schedule.
The contractor involved in the project withdrew due to "difficult conditions and low prices in key markets".
The study, to test a new management approach and allow limited fishing, was due to run until mid-September.
However, it has now concluded and the fishery will remain closed until further notice.
Scottish Fisheries Secretary Richard Lochhead said: "Marine Scotland has been working with the local community and agencies to achieve a sustainable long-term cockle fishery which delivers significant economic benefits to the wider local community.
"It is obviously disappointing the study has had to finish early but even this development is a learning point.
"Marine Scotland are content to accept the end of the contract as we feel nothing further can be learnt from the study given current market conditions."
He said he appreciated local support for the study and that once it had been "fully considered" they would look at future management options for the fishery.
"These options will be fully discussed and explored with the local community before any final decision is taken," he said.
"Our overarching aim remains a fishery in the Solway that is safe, sustainable and offers local benefits for years to come."