West Linton Primary: Action pledge over school 'failings'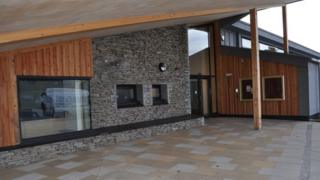 A council has promised action after a "disappointing" inspection highlighted "significant failings" at a school in the Scottish Borders.
West Linton Primary was the subject of a visit by inspectors in May.
Education Scotland said improvement was needed in leadership and communication, the curriculum and self-evaluation.
Scottish Borders Council depute chief executive Jeanette McDiarmid told parents that every effort would be made to tackle the issues raised.
A new £9m school opened in the town last year.
However, inspectors visited earlier this year and raised a number of concerns.
"This is a very disappointing inspection result," said Ms McDiarmid.
"I would like to reassure parents and the wider community that every effort is being made to make significant improvements in the areas identified."
Tristan Compton, who chairs the parent council, said the problems would be tackled.
"This report highlights significant failings in the quality of education, which must now be addressed," he said.
"With the support of SBC this school has the potential to be excellent and the parent council is looking forward to working with the school in the coming months to achieve the improvements that are needed."
Key strengths
The visit also found a number of key strengths in the school which included:
Articulate, polite pupils with "exemplary behaviour"
The new school and nursery building and its potential to benefit children's learning experiences
The willingness of staff to share their interests and skills to support one another and provide positive learning experiences for children
Support from parents in widening children's achievements through the variety of school clubs run by them
Education Scotland said that as a result of its inspection it had concluded that the school and its nursery needed additional support and more time to make necessary improvements.
It said it would work with SBC to assist in tackling the issues raised and monitor progress.
It will then return to carry out a fresh inspection within the next year and issue a fresh letter to parents outlining what improvements have been made.
SBC said senior officers had been working closely with the school, the parent council and Education Scotland since the inspection in May.
It said they would continue to do so to make sure the "necessary actions" were implemented to ensure improvement.