Borders solar farm proposal unveiled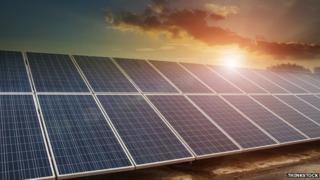 Plans have been unveiled for a 40,000-panel solar farm on land a few miles from Coldingham in the Scottish Borders.
BHA Enterprises wants to build the development on land at Huxton Bogbank.
The company initially planned to create a wind farm but following discussions with Scottish Borders Council it has opted to create a solar development.
If given permission the panels would be suspended above the ground to allow sheep grazing to continue on the land.
A scoping request for the plans has been submitted to the local authority.
'World leader'
WWF Scotland director Lang Banks said the scheme would still have to go through the proper planning process.
"However, the thousands of solar panels already installed across Scotland are already helping to prevent thousands of tonnes of climate-damaging emissions being emitted every year," he added.
"The Borders and other parts of Scotland may seem unlikely places for solar, but if you look at solar maps Scotland receives about 80% of the solar energy of Germany - the current world leader in solar.
"So, there's absolutely no reason we couldn't be deploying significantly more solar if we put our minds to it."