Steve Hislop Memorial Run held in the Borders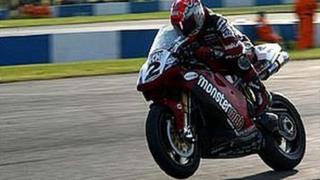 Hundreds of motorcyclists were expected to turn out in the Borders to honour former British superbike champion Steve Hislop.
The 12th annual Steve Hislop Memorial Run takes place on Sunday.
Bikers from around the country set off from his home village of Denholm on a route into England and back to the Borders.
Proceeds from a collection will go to Scotland's Charity Air Ambulance.
Organiser Wendy Oliver said: "It is hard to believe we are now at the 12th run.
"It is such an emotional day for everyone involved to see the numbers actually on the increase year on year bearing in mind that it is 11 years since Steve passed away.
"This year we have changed the direction a little in order to keep it fresh."
Hislop was twice British superbike champion and one of the most successful riders in the history of the Isle of Man TT races.
He was killed in a helicopter crash near Teviothead, Roxburghshire, in 2003.
Hislop was inducted into the Scottish Sports Hall of Fame in March 2010.