Dumfries Infirmary meets health inspection targets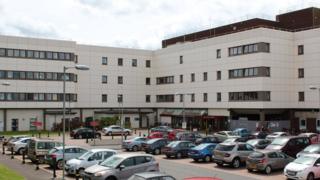 A follow-up inspection has found Dumfries Infirmary has met all eight improvement requirements ordered after a previous visit.
The Health Environment Inspectorate returned to the south of Scotland site in June after checks in January.
It found all the issues raised during the first inspection had been tackled.
However, it had concerns about the standard of cleanliness of mattresses in the accident and emergency department and ordered action there.
HEI Chief Inspector Susan Brimelow said: "The purpose of this inspection was to follow-up on the progress made by NHS Dumfries and Galloway towards addressing eight requirements arising from our previous visit.
"During this inspection, we saw evidence that improvements had been made and were in place.
"As a result, all previous requirements have been fully met."
She added that concerns about mattresses in the A&E department would have to be addressed "immediately".
"We will continue to inspect Dumfries and Galloway Royal Infirmary to ensure improvements are made," she said.