Nurse fitness drive hopes to grow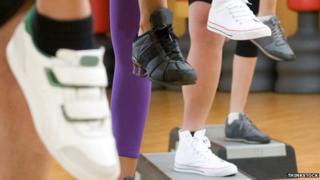 A project which sees student nurses in southern Scotland take part in an exercise programme could become a formal part of their training.
The fitness intervention taskforce initiative was launched a year ago by the University of West of Scotland at its Dumfries campus.
Students take exercise sessions for their peers before classes start.
They are then sent out to care homes, local groups and schools to inspire others to get fit.
Lecturer Julie Orr said the visits had proved hugely successful with demand growing all the time.
"This is student nurses who have particular interests in promoting physical activity to their peers," she said.
They then provide sessions at the university which are subsequently taken out to the wider community.
"Our year three students go out into the community to really promote physical activity to different age groups and that really helps their employability skills and their graduate skills," she said.
"The reaction has been great, especially in care homes.
"They have said: 'We want to do more of this - we want to engage our residents in activities.'"