Severe weather: National resilience centre set up in Dumfries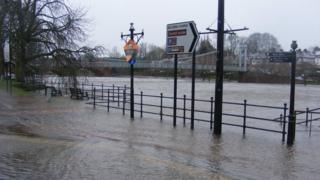 A national resilience centre to deal with issues such as flooding is to be set up in Dumfries.
The Crichton Campus site will help communities and local emergency services prepare for a predicted increase in severe weather.
Environment Minister Paul Wheelhouse said recent experience made Dumfries and Galloway the ideal choice for the centre.
He said: "It is about fine tuning our response to these sort of events."
Mr Wheelhouse told BBC Radio's Good Morning Scotland programme: "Dumfries and Galloway, as we all know, has suffered significantly through recent weather events.
"There are a number of sites here where we can learn from how resilience is delivered at a local level and how we benefit from flood protection and flood warning systems.
"It is about making sure we are working in a joined-up way and a multi-agency way."
Family rescued
Dumfries and Galloway was one of the Scottish areas hardest hit by flooding at the end of last year and over the new year period, with residents of Kirkconnel, Carsphairn and Moniaive having to be evacuated.
One family was rescued by helicopter after their farm house beside the River Nith near Closeburn was cut off by rising water.
Just days later, coastal communities along the Solway bore the brunt of more severe flooding as high tides, storm surges and gale force winds combined to overwhelm sea defences.