Borders General Hospital tackles healthcare concerns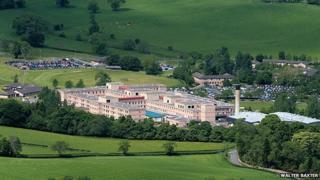 Borders General Hospital has fully met four of the six requirements for improvement ordered by health inspectors.
The Healthcare Environment Inspectorate (HEI) previously visited the site last October.
A follow-up inspection "found evidence that improvements had been made and were in place".
However, the hospital has again been warned over the cleanliness of patient equipment.
The HEI had called for improvements to linen management and the storage of breast milk.
It also ordered NHS Borders to provide a "suitable and sufficient risk assessment" for the "limited bathing facilities" on Ward 12.
Inspectors said that would ensure there were effective control measures in place to minimise the risk of infection to patients, visitors and staff.
It also recommended that a timescale should be provided for additional bathing facilities on the ward.
Improvements welcomed
Susan Brimelow, HEI chief inspector, welcomed the improvements but said more work had to be done.
She said "The purpose of this inspection was to follow-up on the progress made by NHS Borders towards addressing six requirements arising from our previous inspection.
"During this inspection, in June 2014, we saw evidence that improvements had been made and were in place.
"As a result, four previous requirements have been fully met, and one partially met.
"One requirement relating to the cleanliness of patient equipment has not been met and has been made again during this inspection.
"NHS Borders must address this requirement immediately. We will continue to inspect Borders General Hospital to ensure that improvements are made."