Warning for Dumfries and Galloway as report highlights rural crime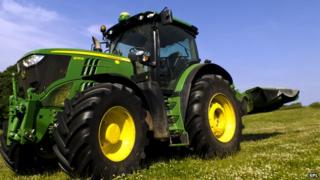 Police in Dumfries and Galloway have said there can be no let-up in the fight against rural crime across the region.
The warning comes despite a new report showing a downturn in value of thefts from farming communities last year.
Figures compiled by insurer NFU Mutual suggested rural crime cost Scotland £1.9m in 2013, compared with £2m the previous year.
The most targeted items were quad bikes, tools and fuel.
Insp Stuart Wilson from Police Scotland said that while the trend in rural crime was down, it remained a key issue for those working in agriculture.
He said: "Dumfries and Galloway is about 2,500 sq miles and it is predominantly rural, farming communities.
"Traditionally we have seen things like the theft of quad bikes, of diesel, or tools, and indeed larger items like diggers, tractors and pressure washers.
"It is therefore important that we take very opportunity possible to make sure theses things are secure and we don't become victims of crime."