Tour o' the Borders cycling event enjoys closed road boost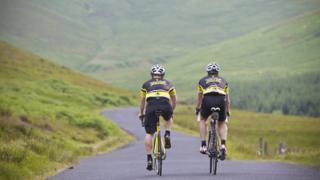 An event in the Borders which is expected to be attended by thousands of amateur cyclists is to take place on closed roads for the first time.
The Tour o' the Borders is being staged on 10 August and sets off from Peebles.
The event has grown rapidly, with more than 2,000 riders due to take part this year compared with just 286 two years ago.
Tour director Neil Dalgleish said that was testament to the surge in popularity in cycling sportives.
"Cycling is a key feature in the Scottish Borders tourism strategy, with the region trying to grow its share of the £239m that biking brings to Scotland's economy each year," he said.
"This will be the first closed road cycling event in the Scottish Borders and we envisage the event going from strength to strength in the coming years.
"Scotland is the perfect stage for events and The Tour o' the Borders truly showcases our stunning landscapes and we hope that cycling fans from all over Britain will join us to make the 2014 Tour o' the Borders closed road cycling sportive event truly memorable."
He said there might be some disruption caused by road closures but hoped people would see the economic benefits.
"The economic impact of the event stands at around £500,000, which is a huge sum for a one-day event," he added.
The route will pass through Peebles, Cardrona, Selkirk, Clovenfords and Roberton, with participants choosing to take in either a 76 or 55-mile circuit.
Paul Bush of EventScotland said: "Tour 'o the Borders has grown enormously since 2012 to become a very popular event, delivering great benefits for the local area.
"No doubt riders will be thrilled to hear that they will have the chance to experience a closed road event this year."
Police Scotland and Scottish Borders Council also said they were "very supportive" of the event.