Dumfries' Burns statue square work completion in sight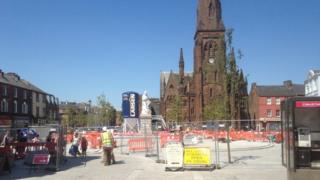 A council has said any business which feels it has a "legitimate claim" can seek compensation over delayed upgrade works in Dumfries town centre.
The £1m improvement scheme around Burns statue was supposed to be completed by the middle of June.
A revised deadline has now been set for 8 August - some seven weeks behind the original schedule.
A Dumfries and Galloway Council spokesman said any compensation bids would be assessed by loss adjusters.
The project has been ongoing for months and was originally intended to be finished in time for the town's Guid Nychburris celebrations on 21 June.
However, that deadline was missed due to "unforeseen issues" with obstructions and drainage.
Now contractors are confident they can meet a deadline of 8 August.
"Land Engineering will continue to ensure pedestrian access is maintained to all premises and will open up those sections of new footways that are complete," said the council spokesman.
He said traders and residents would be kept updated on the phasing of the works and arrangements for deliveries and access.
"Works were delayed as a result of unforeseen issues with physical obstructions and the condition of the existing drainage," he said.
"Extra care has been required to locate, identify and deal with existing buried public utility services.
"These works have been necessary to ensure the project is delivered safely and to a high standard.
"Progress was also affected in making provision for the Guid Nychburris and the Queen's Baton Relay events."
He said the council had "continually sought assurances" from contractors that resources on site were adequate and that the available options for working had been "maximised".
"Any parties directly affected by the works who feel they have a legitimate claim for compensation should submit their claim to the council," he added.
"These will be passed to the council's loss adjusters for assessment."