Wickerman Festival: Police in drinks appeal to revellers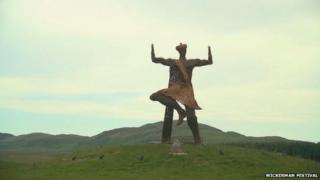 Police have urged people attending the Wickerman Festival in southern Scotland this week to consider the amount they drink at the event.
Thousands of people are expected at East Kirkcarswell near Dundrennan on Friday and Saturday to see acts including Del Amitri and Dizzee Rascal.
Insp Amanda Scott said they did not want to spoil anyone's enjoyment.
However, she asked anyone attending not to overindulge with their consumption of alcohol.
"It's a really good festival, it's a really enjoyable festival - I have been working at the Wickerman now for a number of years," she said.
"It is a great atmosphere because it's a family festival and because there are young people and children on the site people do tend to behave themselves.
"But there will always be an element, unfortunately, who overindulge."
She advised the public to try to take alcohol in moderation.
"What we are asking them is don't overindulge - there is free drinking water available, there are plenty of food outlets available," she said.
"Take it steady over the weekend - don't drink to excess so that what could be a really good and memorable night is something that you can't recall the next day."