Jedburgh's World War One history examined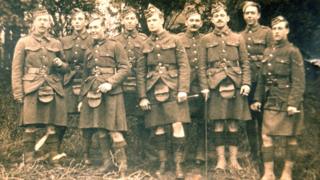 An exhibition at Jedburgh Castle Jail has been dedicated to the men from the town who served in World War One and the impact of the conflict on the area.
It includes photographs provided by the Jedforest Historical Society.
Among them is an image of volunteers leaving Jedburgh Station in 1914 to go to serve in the war.
Reproductions of recruitment posters also show the pressure on men to volunteer before conscription in 1916.
Life at the front line is illustrated through objects, many of which are on loan from the Jedburgh branch of the Royal British Legion.
These include brass shell ends made into containers by soldiers in the trenches, a soldier's water bottle and an officer's knife and fork, as well as postcards sent to loved ones at home.
There are also images of Tank Bank "Julian" visiting Jedburgh, on 9 October 1918, as part of a tour of the Borders.
Tanks were taken around Britain with the aim of encouraging people to buy war bonds and war savings certificates.
Despite it being a wet day, large crowds watched as the event was opened by Lord Strathclyde.
Provost Oliver was among those who gave speeches from the top of the tank.
Jedburgh raised £42,550 as a result of the visit of the tank - reckoned to be worth about £1.8m in today's money.
Once the war finally ended, Jedburgh celebrated with a victory parade and a peace picnic, which are captured in photographs from the time.
The exhibition ends with images of the town's war memorial being unveiled in 1921 to commemorate the sacrifice made by so many local men.
The exhibition runs until 2 November and admission is free.