Castle Loch bird hide blaze 'upsetting'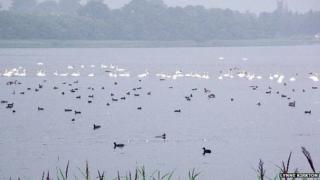 Community trust volunteers said they had been left "upset and extremely disappointed" after fire destroyed a bird hide they had built.
The incident happened at the Castle Loch at Lochmaben overnight between Monday and Tuesday.
It is still unclear whether it was an accident or a deliberate act of vandalism.
Community Trust Project Manager Darren Flint said the hide was a fantastic facility for the area.
"I would describe it as the window on to the loch," he said.
"It was a great spot just to sit for a while and just have peace and quiet and also just to enjoy the bird life and often the otters would be swimming underneath as well.
"Now that facility has completely gone - there is nothing left of the bird hide."
Anyone with any information about the incident has been asked to contact the police.