Borders food bank help call as service demand rises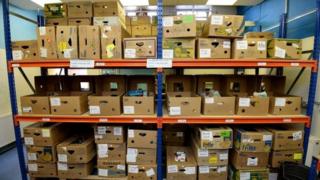 Food bank co-ordinators in the Borders have asked for public help to help cope with a rise in demand.
They now run a formal network of eight branches in the region compared with just one four years ago.
To minimise any abuse, parcels go only to those referred by agencies such as the NHS, council or Department of Work and Pensions.
David Shepherd, who co-ordinates the service, said any help to run the food bank operation would be welcome.
"People don't ask for food because they just want to be noticed," he said.
"They are asking for food because they are hungry and they are struggling."
It is estimated they assist about 30 people a week in the Galashiels area alone and more than 90 across the whole region.
'Help enormously'
Mr Shepherd said there were two ways members of the public could be of assistance.
"If people are able to support us in any way through donations of food then we will be able to distribute that - it would help us enormously," he said.
"Also, if anybody feels able to support us in terms of time - we are always in need of transport and helpers."
Anyone wishing to donate food can contact the food banks through the Salvation Army in Hawick, and churches in Galashiels and elsewhere.
They also act as collection points, as do Selkirk Co-op, Jedburgh swimming pool, and Tesco in Peebles.