Glasgow 2014: Big Burns Supper acts take Commonwealth Games role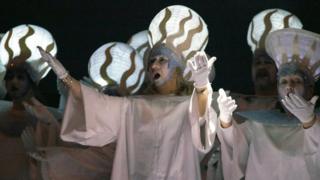 More than 100 performers from the Big Burns Supper festival in Dumfries are to be part of a preview show at the Commonwealth Games in Glasgow.
They include cabaret artists, musicians and dozens of members of the town's community choir.
Festival director Graham Main said he hoped it could raise the profile of the event.
The show, at the Laphroaig Lounge at the Teacher Building next Thursday, is for invited guests only.
Mr Main said: "Big Burns Supper 2015 is going to be bigger, bolder and brighter than ever with nine days of fabulous entertainment, plus the Burns Night Carnival.
"We're going to put on a spectacular preview for international guests and media to show them just how special the festival will be and to highlight Dumfries and Galloway as a fabulous holiday destination."