Plans to reduce flood risk in Jedburgh are revealed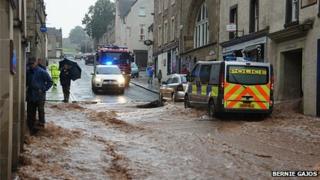 Engineers have submitted plans to reduce the risk of major flooding in Jedburgh.
Homes and businesses in the town were affected by waters overflowing from the Skiprunning Burn in August 2012.
Scottish Borders Council has completed initial work at Burn Wynd and Duck Row, so floodwater can escape into the river system.
But a long-term solution will cost in the region of £500,000.
The authority is now considering a scoping request for a finalised scheme.
This would involve extensive town centre streetscaping, an underground bypass culvert, the widening of the burn in places and the fitting of a secondary debris screen.
About 50 homes and businesses were affected in last year's incident, prompted by a spell of thundery rain.
An in-depth study blamed a blocked screen as well as saturated ground nearby and a high-level of surrounding debris.
Conservative MSP John Lamont said: "For the sake of residents and businesses alike, I hope this work can be carried out soon, so that they don't have to witness the type of scenes which we've had over the last few winters.
"The effort of the emergency services, local residents and volunteers in cleaning up after recent floods was admirable.
"The council owes it to these people to ensure that everything is done to prevent flooding happening again."