Kelso High School project aims to provide business boost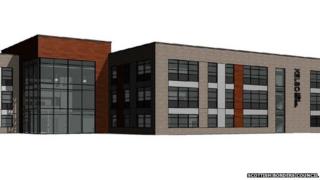 Scottish Borders Council has said it will aim to "maximise the benefits" to local businesses from a £21.8m new high school in Kelso.
A planning application was submitted for the project last month.
Now businesses and suppliers in the region have the chance to meet main contractor Morrison Construction.
Councillor Stuart Bell said more than 50 firms had attended a similar event held ahead of works on a Galashiels Transport Interchange.
"It is one of the ambitions of this administration to maximise the benefits to the local economy from this kind of public investment," he said.
"We do have to do that within the rules of fair European competition.
"One aspect of that is to make sure that the prospective suppliers are fully aware of the contract, of the opportunities and what they need to do to have the best chance of securing work."
The meet-the-buyer event for the project is being held on 17 July in the current Kelso High School building.