River Nith rescue sparks renewed Dumfries water warning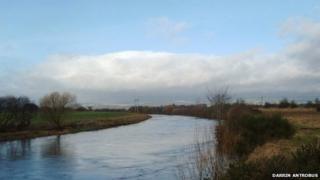 Police have issued a fresh safety warning after a 17-year-old boy had to be rescued from the River Nith in Dumfries after getting into difficulties.
The teenager was trying to cross the river near Cairn Avenue on Friday when he got into trouble.
A 32-year-old woman heard shouts for help and managed to pull him to safety.
Last month, 15-year-old Scott Couper died after getting into difficulties in the river, near Carnsalloch Gardens.
In the latest incident, the 17-year-old was given first aid at the scene and taken to Dumfries Infirmary for a check-up.
"The boy was at no time unconscious," said Insp Claire Walker.
"However, this could have been a tragic event.
"The current spell of hot weather does make it tempting to go into rivers and lochs, however, we strongly urge people not to do this.
"Underwater currents, debris which you can get snagged on and even the temperature of the water are all very dangerous and could cause a tragic accident."
She also urged parents to speak to their children about the dangers of going into open water, no matter how safe it might look.