Fuel supplier Gleaner Oils announces plans to expand south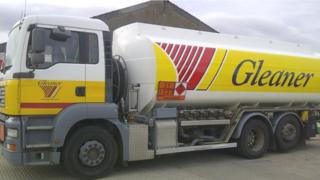 Elgin-based fuel distributor Gleaner Oils has announced plans to expand into the south of Scotland and north of England.
The move comes after shareholder Brian Young sold his 50% stake in the business to his niece and her husband.
Mr Young, whose father founded Gleaner Oils in 1954, sold his share to Jane and Stephen Scott for an undisclosed sum.
Mrs Scott already owned half of the business.
The new owners are now developing a three-year expansion plan, which includes recruiting 20 new staff. It currently employs 180 people.
The firm, which has an annual turnover of about £125m, owns petrol stations and fuel supply depots in nine locations including Mull, Cowdenbeath, Aberdeen and Skiach in Ross-shire.
It also supplies fuel to other businesses.
'Ready to grow'
Outgoing chairman Billy Laing, who has been with the company since 1961, said: "We are in a very strong financial position and the company is ready to grow and enter new markets in the south of Scotland and the north of England, which is one of the many plans which the new generation, in the form of Jane and Stephen, have in mind."
Mrs Scott added: "We have enjoyed consistent growth over the years and, strategically, are very well placed to take advantage of new opportunities.
"We supply a wide range of products across different markets - including agricultural, domestic, industrial, marine, petrol and LPG - and have around 16,000 regular business customers.
"Our principal strategy will be to pursue organic growth but we will also consider acquisitions if there is a good fit, and if the sites allow us to build our footprint on a profitable and sustainable basis."