Housing demand outstrips supply in Scottish market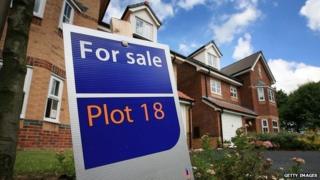 Demand for housing continues to outstrip supply in the Scottish market, according to the Royal Institution of Chartered Surveyors.
Its latest report also showed a rise in newly agreed sales, regarded as a good indicator of market activity.
This has now shown a steady rate of growth since February 2013.
The survey recorded a balance of 32% more chartered surveyors reporting increases in new buyer inquiries.
However, only a balance of 1% reported an increase in new instructions for properties coming onto the market in June.
In the month that saw the Bank of England introduce a 15% cap on high mortgages (4.5 times income and above), banks were perceived to be lending less.
Average Loan to Value (LTV) ratios among first-time buyers dropped for the second consecutive month in Scotland to 85.4%. That figure is down from 88% in April.
Impact on prices
Sarah Speirs, director of Rics Scotland, said demand exceeding supply was having a direct impact on prices.
She said: "While we do expect this to level out as the summer months continue, the lack of supply is a key factor driving the Scottish market.
"It is one which will be addressed within the Scottish Housing Commission's recommendations published later this month."
The report found Scottish house prices remained stable. A net balance of 57% of surveyors reported an increase in prices in June, up from 34% in May.
The number of respondents expecting prices to rise rather than fall over the next three months remained steady at a net balance of 40%, compared to 44% in May.
Andrew Hitchen, of surveyors J&E Shepherd in Stirling, said: "New buyer inquiries and completed transactions remain high.
"However, new vendor instructions have dipped as expected and the lack of supply continues to suppress the market."