Newcastleton bridge bike link targets tourism boost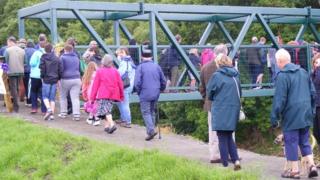 A bridge built between a Borders village and a popular nearby biking route hopes to provide a tourism boost for the area.
The pedestrian and cycle path links Newcastleton with one of the 7stanes mountain bike routes.
Richard Scott, 10th Duke of Buccleuch cut the ribbon on the £300,000 project on Monday.
He said he hoped the development could provide a "great boost to tourism in Liddesdale".
The new bridge is at Whithaugh Pool on the Liddel Water. It gives direct access from the village to the local forest via the Rock UK Outdoor Centre.
Access facilities
This, along with the relocation of the 7stanes mountain biking trailhead from Dykecrofts into Newcastleton itself, is expected to bring many more visitors into the village, boosting local shops and other businesses.
Rock UK currently welcomes 10,000 visitors every year to its Whithaugh Park site and the new link will make it easier for guests to enjoy local shops, pubs and cafes.
The Newcastleton community will likewise be able to access facilities at the centre more easily, including the swimming pool.
The tourism scheme is the result of a partnership between Scottish Enterprise, 7stanes, Rock UK, VisitNewcastleton, Scottish Borders Council and the Forestry Commission.
They all worked closely to help improve opportunities for Newcastleton and the surrounding area.