Report delay in Creetown paedophile case 'unacceptable'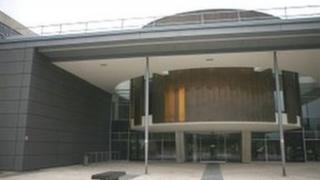 A High Court judge has criticised an "unacceptable" delay in receiving background reports to allow her to pass sentence on a convicted paedophile.
Lady Scott said she would be submitting a formal complaint to Thames Valley social services.
Richard Tattam, 45, of North Marston, Buckinghamshire, abused two girls over a period of many years while living in Creetown, Dumfries and Galloway.
His sentencing has now been deferred until 30 July.
The judge's critical comments came at the High Court in Livingston when Tattam was due to be sentenced.
Sheriff Kenneth Robb had earlier remitted the case from Stranraer Sheriff Court to the High Court because he judged his powers to sentence him to a maximum of five years in prison were not enough.
However, when Tattam appeared for sentence, his solicitor advocate Ranald Lindsay revealed there had been a repeat of technology failures which had prevented a video interview with social workers for a second time.
Lady Scott said the case had already dragged on far too long.
She said: "I do accept that it's drawn out for an unacceptable length of time.
"It's extremely unsatisfactory that twice we've had problems with technology and it hasn't been overcome in time to prepare a report.
"I will be indicating my dissatisfaction to the social work department and I will be investigating if there are alternative ways of proceeding without having to use technology."
She was also unhappy with a suggestion that responsibility for preparing the background report should be transferred from Thames Valley to Dumfries and Galloway social work services.
Sex register
"I just worry that the bureaucracy of social work departments is going to factor in even more delay as paperwork transfers from one jurisdiction to another," she said.
"I certainly want to make sure that the next diet is when he's going to be sentenced.
"If he does appear again and there's no report I'll be minded to sentence him in any event."
His name has already been added to the sex offenders' register and he was remanded in custody for sentence at the High Court in Edinburgh.
Tattam previously pled guilty to abusing two young girls over a period of many years while he was living in Creetown.
He moved to Scotland with his job as a BT engineer in 2002 and the abuse started a couple of years later.
He began to abuse one of his victims when she was aged just nine.