Harestanes wind farm near Moffat officially opens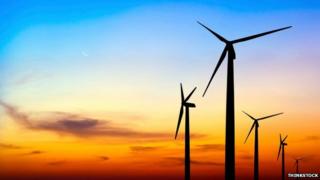 One of Scotland's largest onshore wind farms has been officially opened near Moffat in Dumfries and Galloway.
Scottish Power Renewables is behind the 68-turbine Harestanes scheme which it says will meet the annual electricity needs of more than 73,000 homes.
It said the £160m project had supported more than 150 jobs in the past two years - 60 from the local community.
Energy Minister Fergus Ewing said the wind farm could help meet Scotland's 100% renewable energy target.
The site covers a large area in the Forest of Ae, which is managed by Forestry Commission Scotland (FCS).
Developers say it has delivered a range of other benefits during construction including:
The creation of about seven miles (11km) of tracks and paths
A new trail being built on the 7stanes cycle route
Contracts for local businesses
Helping with a new turbine technician course at Dumfries and Galloway College
Keith Anderson, of Scottish Power Renewables, said: "Harestanes is one of the largest onshore wind farms in Scotland, and it is fantastic to see the project fully completed after a number of years of planning and preparation.
"As well as overcoming many hurdles during the planning process, we also had to manage the discovery of unexploded World War Two bombs during construction, and we were delighted to finish the project on schedule.
"Onshore wind power continues to be a strong contributor to the UK's economy, and major projects like this support hundreds of jobs."
Mr Ewing said he was particularly pleased that the development might provide opportunities for young people completing the turbine technician course.
He added that the Scottish government wanted to see the "right developments in the right places".
'Positive project'
Bill Meadows, FCS district manager for Dumfries and the Borders, said it was "very keen" to see forests make a "significant contribution" to renewable energy goals.
"Harestanes is a great example of how public land can be used successfully to generate clean energy which helps reduce the impacts of climate change," he said.
"It has been a positive project and we are pleased that local recreation facilities have been developed for the community too.
"All this has been achieved whilst we continue to operate a large timber producing forest."