Conor Bull walks free after schoolgirl rape conviction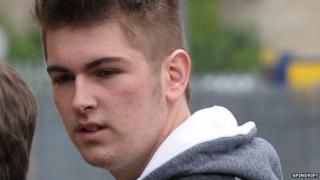 A teenager who admitted raping a 12-year-old girl walked free from court after a judge decided not to jail him.
Conor Bull, 17, from Stranraer, raped the schoolgirl in December last year and boasted of his crime to a friend.
At the High Court in Glasgow judge Lord Burns sentenced Bull to 101 unpaid hours of community work.
The judge said that a background report showed that he presented a low risk of reoffending.
He also told Bull that, but for his early guilty plea, he would have ordered him to perform 150 hours community service.
Bull will also be placed under the supervision of a social worker for three years and attend a course designed to make sexual offenders realise the impact their actions have had on their victim and family.
Different ages
The court was told that Bull believed the girl was 16 and her Facebook pages where she had claimed to be 14 were shown to Lord Burns by defence counsel Simon Gilbride.
He argued that sentencing Bull to detention would do no good and said that the author of a background report on Bull said he was assessed as a low risk of re-offending.
Mr Gilbride said: "Mr Bull says she told him she was 16 coming on 17 and there were entries on Facebook and Bebo where she seemed to give different ages."
He told the court that Bull had been offered a placement on a catering course organised by Galloway training which consisted of three days working and two days at college.
Mr Gilbride added: "He is keen to take up this opportunity if possible. Normally with an offence of this gravity a custodial sentence is normally the only suitable disposal.
"However, the author of the social inquiry report prepared on Mr Bull refers to a community payback order as an option.
"Mr Bull was bullied at school and is immature, but he has said he will comply with any order imposed."
Told friend
The court heard how Bull had been with the girl on 30 December last year before going to his Stranraer home.
He later went into a bedroom with the youngster and asked "did she want to do it".
The pair eventually had sex before the girl returned to her home with a friend.
The court heard that Bull then told one of his own friends that he had sex with the 12-year-old.
The incident came to light when the girl later went to hospital after complaining she felt sick.
She eventually admitted to a medic that she previously had sexual intercourse, which lead to Bull being detained.
Lord Burns warned Bull that if he breached his community payback order he would be brought back to court and sentenced.
He added: "You should take this opportunity I'm giving you."
Bull was placed on the sex offenders' register for three years.