Crimewatch plea over Rhona Martin Olympic gold medal theft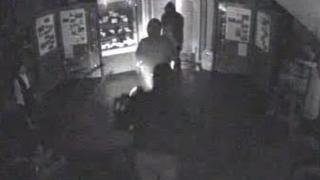 An appeal has been made on Crimewatch Roadshow over the theft of Olympic gold medals - including one won by Rhona Martin - from Dumfries museum.
The total value of the goods taken at about 22:00 on Wednesday 30 April has been estimated at about £34,000.
Ms Martin told the BBC programme it had been a "disappointing blow" to find out her medal had been taken.
Det Insp Bryan Lee said the "worst case scenario" was that it had gone to scrap metal dealers and been melted down.
The thieves targeted items in a special curling exhibition - including medals from the 1924 and 2002 Winter Olympics.
Three suspects were captured on CCTV running from the grounds of Dumfries Museum shortly after the raid.
Police have released grainy images captured on the night.
Museum curator Siobhan Ratchford described the scene which met her on the day following the theft.
"I walked into the gallery where the medal had been and all the other items that were stolen and it was just appalling," she said.
"I couldn't believe how much glass there was and how much damage had been done.
"The staff were just devastated - I know one or two people were in tears."
Ms Martin was informed of the raid shortly afterwards.
"Before they had even said what had happened I knew in my heart what they were going to tell me," she said.
"It was a disappointing blow because curling has had a great year.
"The exhibition was fantastic to promote our great sport and then all of a sudden I just thought: 'Oh no, I have lost my medal'.
"It means a lot to my family. It means a lot to the whole of Britain."
Det Insp Lee said it was impossible to put a true value on the medal.
"The Olympic committee destroys each mould after the games so it is impossible to replace Rhona's medal," he said.
He said it could have been sold to a jeweller or collector or possibly been melted down for scrap.
"The value of the gold is actually far less than than the value of a medal which inspired a nation," he said.